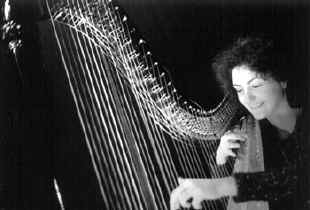 Lurana Lubello graduated with honors in 1993 from the Milan Conservatory of Music, where she studied composition with Maestro D. Lorenzini, and in 1997 was awarded a further academic degree from the Musikhochschule in Frankfurt under Alice Giles. In the same period Mrs. Lubello attended master classes with Judith Liber, Susann Mc Donald,Edward Witsenburg, and at the prestigious "Salzedo School" in the United States under the direction of Alice Chalifoux.
Mrs. Lubello had the position of first harp with the Landes Jugend Orchester in Berlin - where she also coached the entire harp section -, with the Frankfurter Sinfoniker, with the Rhein- Main Philharmonie, and with the orchestra of the Kassel Staatstheater. From 1994 to 1997 Mrs. Lubello played first harp with the World Orchestra with the following conductors: Woldemar Nelsson, Antonio Pappano, Yuri Temirkanov, Yakob Kreizberg, Kent Nagano, and Bobby Mc Ferrin with whom she recorded a CD of music by Britten and Stravinsky. In 1997 Mrs. Lubello performed as a soloist in Mozart's Concerto K 299 with the Rhien- Main Kammerphilharmonie in Frankfurt and won the audition for the Mahler Youth Orchestra, conducted by Claudio Abbado. Since 2005 Mrs Lubello performs with the Orchestra Nacional de Oporto.
Mrs. Lubello has won several national and international prizes both as a soloist and as a member of chamber music groups. Foremost among these was the Vienna Music International Competition in 1999.
Mrs. Lubello regularly performs in European music festivals, such as, "Serate Musicali" in Milan, "Traiettorie Sonore in Como, "Autunno Musicale" in Como, "Festival d'Europa - Teatro d'Europa" at the Piccolo Teatro in Milan, "Estate in Musica" in Camogli, and " Musik in Kloster" in Dornach with the concert harp and Celtic too. In July 2002 she's been invited for the World Harp Congress in Geneva, where she performed a world premiere of "Ultramarine" by S. Cognolato and two Salzedo's minor works.
Several Italian composers wrote for her because of her deep interest on the modern music and commercial music combine with her special knowledge of harp sounds and effects.