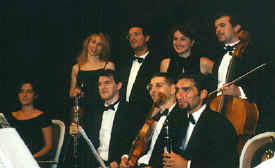 The AMARCORD ENSEMBLE chamber music group was founded by the oboist, composer and arranger C. Balletti in order to perform and diffuse quality sound track music from movies. The group consists of eight instruments: flute, clarinet, oboe, a string quartet, harp, and a choice of one wind instrument - the piccolo, English Horn, or contralto saxophone - to permit o wide range of instrumental sounds.
The group makes use of refined transcriptions based on original sound tracks and selects music written by world - famous composer (repertoire ). The AMARCORD ENSEMBLE has already held concerts in the Italian regions of Lombardy, Piedmont, and Emilia Romagna as well as in Switzerland.
The AMARCORD ENSEMBLE is a well - knit team of professional musicians who have ample experience as soloists, or as performers in other chamber groups and renowned Italian orchestras.
An unforgettable concert to bring back the intense emotions of the films indelibly imprinted in your memory.